Review
Open Access
Open Peer Review
This article has Open Peer Review reports available.
Knee stability assessment on anterior cruciate ligament injury: Clinical and biomechanical approaches
BMC Sports Science, Medicine and Rehabilitation
BMC series – open, inclusive and trusted
2009
1:20
Received: 23 September 2008
Accepted: 27 August 2009
Published: 27 August 2009
Abstract
Anterior cruciate ligament (ACL) injury is common in knee joint accounting for 40% of sports injury. ACL injury leads to knee instability, therefore, understanding knee stability assessments would be useful for diagnosis of ACL injury, comparison between operation treatments and establishing return-to-sport standard. This article firstly introduces a management model for ACL injury and the contribution of knee stability assessment to the corresponding stages of the model. Secondly, standard clinical examination, intra-operative stability measurement and motion analysis for functional assessment are reviewed. Orthopaedic surgeons and scientists with related background are encouraged to understand knee biomechanics and stability assessment for ACL injury patients.
Keywords
Anterior Cruciate LigamentAnterior Cruciate Ligament ReconstructionAnterior Cruciate Ligament InjuryPivot Shift TestKnee Kinematic
Introduction
Sports injury is common, ranking the second highest (21%) in terms of cause of injury [1] and leading to long-term disabilities and handicaps especially in patients with knee injuries [2]. Among all sport-related knee injuries, one-fifth (20%) involves the anterior cruciate ligament (ACL) – the most commonly traumatized structure [3]. ACL rupture results in knee instability [4], prohibits the athletes back to sports, and results in early retirement [5]. Conservative treatments can somewhat enhance the sense of stability and rehabilitation, but not in objective outcome assessment [6] and rate of returning to sports [7]. Therefore, operative treatments are often prescribed to reconstruct the ACL in order to restore the knee stability and return the athletes to sports and active lifestyle [8].
Numerous anatomy studies showed that the intact human ACL consists of an anteromedial (AM) bundle, and a posterolateral (PL) bundle [9], while some studies even reported an intermediate bundle in between [10]. Biomechanics studies showed that AM and PL bundles mainly contribute to anterior-posterior and rotational stability of the knee respectively [11, 12]. Traditional surgical methods employ a single bundle bone-patellar-tendon-bone or hamstrings autograph, however, the methods provide good resistance to anterior tibial loads but not to rotational loads [13]. Therefore, the unique anatomical and biomechanics characteristics of the two bundles provide a rationale to the recent emerge of anatomical double-bundle ACL reconstruction approach [14, 15] to better mimic and restore the anatomy and biomechanics of the intact ACL in the reconstructed knee [12]. However, this advantage of rotational stability has not been widely proved on living human.
Returning to high level athletic activity is an ultimate goal for patient who undergoes ACL reconstruction. However, standardized and objective criteria to assess athletes' safe return-to-sports are limited. Functional knee stability is proposed to be one of the key factors influencing safe return-to-sports [16]. Before recommending reconstructed patients to return to activity with pre-injury level, good knee stability should be attained when performing similar on-field movements such as stop-jumping and cutting in the laboratory setting. Therefore, functional knee stability evaluated by kinematics assessment definitely provides valuable information on standardization for safe return-to-sports. This article reviews the knee stability assessments for injury diagnosis, treatment evaluation and long term standard for safe return-to-sports for ACL deficient knee. It aims to provide the basic introduction in knee biomechanics and the importance of stability assessments for orthopaedic surgeons, physiotherapists and scientists with related background.
Discussion
Standard clinical tests, such as Anterior Drawer test and Lachman test, are commonly used to assess AP stability before and after reconstructing the graft. With the help of validated navigation system, knee kinematics stability test can be assessed during operation procedure, enabling the evaluation of immediate effect of ACL reconstruction. The clinical result in terms of laxity is more reliable using navigation system when compared to conventional procedure [59]. To investigate if ACL reconstruction with anatomical double-bundle technique better improve rotational stability, Robinson et al [60] suggested that PL bundle was important than AM bundle in controlling rotational component during Pivot Shift test. In another intra-operative study [61] in which the surgeon applied manual maximum force to test anterior-posterior and rotational stability, however, found no significant different between single-bundle technique and double-bundle technique in restoring knee kinematics. It is still a controversial issue for double-bundle technique before it comes to a consensus from different research groups.
Patients with ACL deficiency report that they feel giving way rather than anterior-posterior instability during cutting movement in sports. Pivot Shift test is a dynamic test containing multiple directional motion to assess abnormal joint excursion [53]. Using navigation system, stability in terms of rotational displacement and anterior translation can be objectively monitored during Pivot Shift test. However, the manual force applied by the surgeon remains one of major limitations in these intra-operative studies [53, 60, 61]. Robotic testing systems have been employed in cadaveric experiments to simulate Pivot Shift test to a combined valgus and internal rotatory loads [44, 62]. This kind of equipments with controlled manual force should be implemented to the operation theatre for future study which aims at a more scientific proof for having double-bundle technique on ACL injury patients.
For the dynamic pivoting movement, the evaluation period is identified during the stance phase of the pivoting knee, from the first contact of landing to the take-off after pivoting. Knee joint kinematics should be focused during the pivoting movement as it gives a high rotational stress on the knee. When it starts to pivot, the upper body with the femur will externally rotate. Meanwhile, the fore foot of the pivoting leg is sticking on the ground, the tibia then internally rotates relatively to a maximum point as a result (Figure
11
).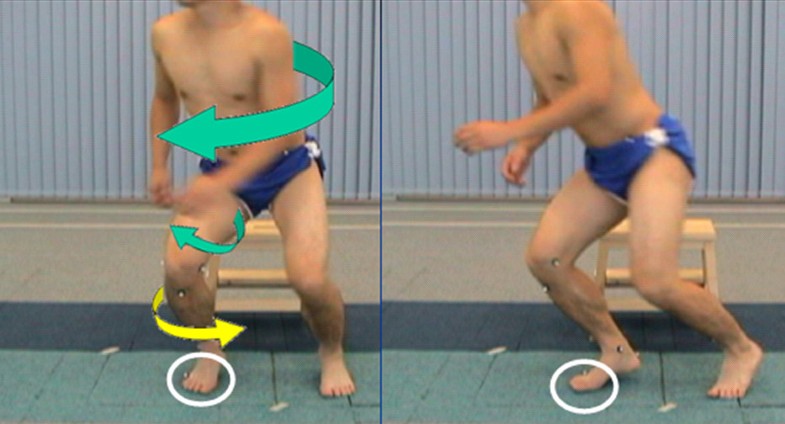 In the study conducted by Ristanis et al [54], the range of internal rotation was reported to be significantly higher in deficient knees than that in intact knees. The authors, however, did not mention about the other knee kinematics data such as valgus angle during the landing phase, which might be an important implication of instability of ACL deficient patients. This kinematics study maneuver, which demonstrates a similar clinical result [63], not only further confirms the rotational laxity in ACL deficient patients, but also provides an adequate assessment for the long term evaluation of anatomical double-bundle ACL reconstruction.
Conclusion
The knee stability assessments in different stages of management model for ACL injury are important in sports medicine. Related researches on clinical examination, intra-operative navigation ACL reconstruction and functional evaluation with motion analysis system are highlighted for better understanding of how these assessments contribute to the diagnosis of ACL injury, the immediate evaluation of operation treatments and the establishment of safe return-to-sports criteria respectively. The clinical relevance is for orthopaedic surgeons, physiotherapists and scientists with related background to apply appropriate assessments for ACL injury patients.
Authors' Affiliations
(1)
Department of Orthopaedics and Traumatology, Prince of Wales Hospital, Faculty of Medicine, The Chinese University of Hong Kong, Hong Kong, P.R. China
(2)
The Hong Kong Jockey Club Sports Medicine and Health Sciences Centre, Faculty of Medicine, The Chinese University of Hong Kong, Hong Kong, P.R. China
(3)
School of Biomedical Sciences, Faculty of Medicine, The Chinese University of Hong Kong, Hong Kong, P.R. China
Copyright
© Lam et al; licensee BioMed Central Ltd. 2009
This article is published under license to BioMed Central Ltd. This is an Open Access article distributed under the terms of the Creative Commons Attribution License (http://creativecommons.org/licenses/by/2.0), which permits unrestricted use, distribution, and reproduction in any medium, provided the original work is properly cited.