Research article
Open Access
Open Peer Review
This article has Open Peer Review reports available.
Bovine colostrum supplementation and upper respiratory symptoms during exercise training: a systematic review and meta-analysis of randomised controlled trials
BMC Sports Science, Medicine and Rehabilitation
BMC series – open, inclusive and trusted
2016
8:21
Received: 26 November 2015
Accepted: 19 July 2016
Published: 26 July 2016
Abstract
Background
Bovine colostrum is proposed as a nutritional countermeasure to the risk of upper respiratory symptoms (URS) during exercise training. The aim of this systematic review and meta-analysis was to estimate the size of the effect of bovine colostrum supplementation on URS.
Methods
Databases (CDSR, CENTRAL, Cinahl, ClinicalTrials.gov, Current Controlled Trials, DARE, EMBASE, Medline, PROSPERO and Web of Science) of published, unpublished and ongoing studies were searched for randomised controlled trials of healthy adults (≥18 years), evaluating the effect of oral bovine colostrum supplementation compared to a concurrent control group on URS.
Results
Five trials (152 participants) met the inclusion criteria, all of which involved individuals involved in regular exercise training. Over an 8–12 week follow-up period, bovine colostrum supplementation when compared to placebo significantly reduced the incidence rate of URS days (rate ratio 0.56, 95 % confidence intervals 0.43 to 0.72, P value < 0.001) and URS episodes (0.62, 0.40 to 0.99, P value = 0.04) by 44 and 38 % respectively. There were limited data and considerable variation in results of included studies for duration of URS episodes hence a meta-analysis of this outcome was deemed inappropriate. The risk of bias assessment in this review was hindered by poor reporting practices of included studies. Due to incomplete reporting of study methods, four of the five studies were judged to have a moderate or high risk of overall bias. Our findings must be interpreted in relation to quantity and quality of the available evidence.
Conclusions
The present systematic review and meta-analysis provides evidence that bovine colostrum supplementation may be effective in preventing the incidence of URS days and episodes in adults engaged in exercise training. The fact that the majority of included studies did not report significant effects on URS outcomes mitigates concerns about publication bias. The point estimates of the random-effects meta-analyses are greater than the smallest clinically important difference, but the low precision of the individual study estimates means the evidence presented in this review needs to be followed up with an appropriately designed and adequately powered, randomised control trial.
Keywords
AthletesBovine colostrumExercise trainingFirst milkRespiratory illnessURTI
Background
Upper respiratory tract infections represent a leading cause for consultations in primary health care [1]. Lifestyle and behavioural factors are key determinants of infection risk [2]. Evidence from cross-sectional and longitudinal studies suggests that athletes are susceptible to symptoms of upper respiratory tract infections during periods of strenuous exercise training and immediately after competition [3–7]. Given the lack of feasibility in identifying pathogenic causes of infections in most research settings [1], the majority of findings are limited to self-reporting by athletes whereby upper respiratory symptoms (URS) has become the accepted reporting standard in exercising populations [8]. Regardless of whether URS are due to infectious causes or other inflammatory stimuli (allergies, airway irritation) mimicking infection, the potential for a negative impact (e.g. impaired performance) on the individual athlete may be the same [8, 9]. Despite being an active and rapidly growing area of research, there remains a lack of effective countermeasures to risk of URS during exercise training [10]. There is a clear need for evidence-based interventions that can reduce the burden of URS in at risk populations such as endurance athletes.
Bovine colostrum (BC) is the initial milk produced by a cow in the first few days following parturition. In contrast to mature milk, BC is rich in bioactive components including growth factors (e.g. epidermal growth factor), immunological mediators (e.g. immunoglobulins) and antimicrobial peptides (e.g. lactoferrin) that are homologous to human colostrum. The greater concentrations of these bioactive constituents in BC have led to proposed benefits towards human immune health [11]. Unlike the passive transfer of immunity that is important for the development of neonatal calves, it is proposed that the small bioactive constituents of BC, which survive digestion, or their metabolites that appear after consumption, have direct effects on human immunity [12]. A recent systematic review exploring the potential applications of BC (including risk of URS) concluded that BC supplementation may enhance or protect host defence under certain detrimental situations (e.g. exercise-induced immune dysfunction) but the exact clinical benefits are yet to be established [13]. However, findings from this review should be interpreted with caution as data of included studies were not statistically combined to quantify effect size, we are also aware of at least one other study [14] on the risk of URS that was not included.
The current evidence of the scientific validity of BC is limited, and the level of evidence used in support of its claims falls below that acceptable in the medical community. While the evidence indicates that BC may have a role in reducing the risk of URS, there is currently no systematic review and meta-analysis that has synthesised the effect of BC interventions on URS. The aim of this study was to systematically review randomised controlled trials in order to estimate the size of the effect of BC supplementation on URS. Specifically, we examined whether BC supplementation reduces the incidence rate of URS days or episodes and duration of URS episodes during exercise training.
Methods
Methods of analysis and inclusion criteria were specified in advance and documented in a protocol that was registered (CRD42015014925) on the International Prospective Register of Systematic Reviews (http://www.crd.york.ac.uk/PROSPERO/).
Results
After removal of duplicates, the search strategy identified 3936 distinct citations, of which 3914 were excluded during the initial screening phase (Fig.
1
). For the remaining 22 citations, full-text papers were ordered, obtained and independently assessed against the eligibility criteria, with two discrepancies resolved by discussion. Studies were included if the allocation to BC and control groups were randomised or based on a quasi-random method. Five studies (23 %) met the inclusion criteria [
14
,
16
–
19
]. The main reasons for exclusion of full-text papers were studies not reporting URS outcomes (
n
 = 11), non-randomised study designs (
n
 = 4) and BC combined with other interventions (
n
 = 3).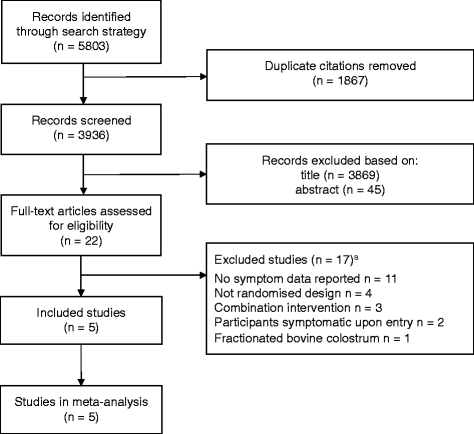 Conclusion
This systematic review and meta-analysis shows that oral supplementation of BC reduces the incidence rates of URS days and episodes in adults involved in exercise training. This may have important implications for the field of sports medicine, which to date has limited evidence for supporting the use of nutritional countermeasures against URS under conditions of physiological stress. In the absence of side effects, future prospective studies are recommended in other at risk groups (e.g. elderly and immunocompromised populations) to further establish the public health impact of BC.
Abbreviations
BC, bovine colostrum; CONSORT, consolidated standards of reporting trials; URS, upper respiratory symptoms
Declarations
Acknowledgements
We would like to thank the reviewers of this manuscript for their constructive comments, the addressing of which, has improved the manuscript.
Funding
No sponsors or sources of funding were used to assist in the preparation of this review.
Availability of data and materials
The datasets analysed during the current meta-analyses are available from the corresponding author on reasonable request.
Authors' contributions
AJ and DM developed the idea for this systematic review. AJ, DM and CB prepared the protocol. AJ, DM and FC performed data searching and extraction while data analyses and synthesis was done by AJ, FC and CB. All authors prepared and revised the manuscript. All authors read and approved the final manuscript.
Competing interests
Arwel W. Jones's PhD (2010–2014) was supported by a Knowledge Economy Skills Scholarship, which was a collaborative project with an external partner, The Golden Dairy Ltd (supplier of bovine colostrum for Neovite/Colostrum UK Ltd). This project was part-funded by the European Social Fund through the European Union's Convergence Programme (West Wales and the Valleys) and administered by the Welsh Government. Authors declare no other potential conflicts of interest to the content of this review.
Consent for publication
Not applicable.
Ethics approval and consent to participate
Not applicable.
Open AccessThis article is distributed under the terms of the Creative Commons Attribution 4.0 International License (http://creativecommons.org/licenses/by/4.0/), which permits unrestricted use, distribution, and reproduction in any medium, provided you give appropriate credit to the original author(s) and the source, provide a link to the Creative Commons license, and indicate if changes were made. The Creative Commons Public Domain Dedication waiver (http://creativecommons.org/publicdomain/zero/1.0/) applies to the data made available in this article, unless otherwise stated.
Authors' Affiliations
(1)
Lincoln Institute for Health, University of Lincoln, Lincoln, UK
(2)
Department of Infection, Immunity and Inflammation, University of Leicester, Leicester, UK